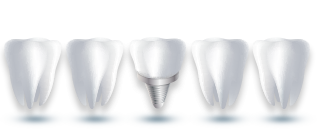 CALL US TODAY @ 309-764-0008 or
FILL OUT THE FORM BELOW TO
SCHEDULE YOUR APPOINTMENT!
*Includes: Consultation, CT Scan, Post and Abutment.
  Does Not Include: Bone Graph
Getting You Your Smile Back. And Protecting Against Bone Loss.
The look, stability, and effectiveness of implants may represent some of the biggest advances we've seen over four decades in the field of dentistry.
Losing a tooth or teeth can be traumatic. Our implant dentistry will help you work through regaining what you've lost, often supplying you with several implant options.
Most people just want to make sure the implant they'll be using is strong and looks like the original tooth. At MyoTech, we know there are other critical considerations including protecting against bone loss and preserving your bite.
Please note that implants are a solution for patients over 18 who are in good health. Some insurance companies do not cover the cost of implants. Ask about our payment options to help you fit a dental implant into your budget.
MyoTech Dental And Integrative Health Center
1828 Avenue Of The Cities
Moline, IL 61265
Monday-Thursday 7:00 a.m. - 5:00 p.m.
Friday 7:00 a.m. - 12:00 p.m.
Phone - 309.764.0008
Fax - 309.764.0059

©1976-2021 MyoTech Dental & integrative Health. All Rights Reserved.